The Ultimate Interactive Entertainment for This Year's Holiday Party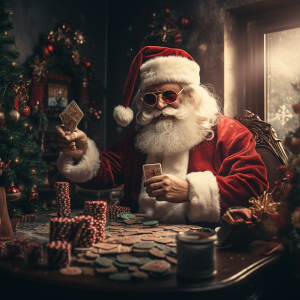 The holiday season is upon us, and it's time to start planning your company's or family's holiday party. While traditional gatherings are always a blast, why not take your celebration to the next level this year? Imagine the excitement of a real casino experience right at your holiday party venue. Philly Casino Parties offer an unbeatable combination of entertainment, interaction, and unforgettable memories that make it the best form of interactive entertainment for this year's holiday party.
Endless Entertainment Options
Philly Casino Parties bring the thrill of a casino to your event. From blackjack and poker to roulette and craps, your guests can indulge in a variety of casino games without the need to travel to Atlantic City or Las Vegas. These games are designed for all skill levels, making it easy for everyone to join in the fun. Plus, our dealers are more than ready to teach new comers or help hone the skills of more advanced players.
Interactive Social Experience
One of the key advantages of hosting a casino party is the interactive nature of the games. Unlike traditional holiday parties where guests may sit in isolation at a dinner table or passively watch a show, casino games encourage social interaction and networking. Players can strategize, laugh, and compete, fostering a vibrant and engaging atmosphere.
Professional Dealers and Equipment
Philly Casino Parties provide professional dealers who are experts at creating an authentic casino experience. They ensure that your guests have a smooth and enjoyable gaming session. High-quality casino equipment, including tables, chips, and cards, is also provided, further enhancing the realism of the event. It is a complete turnkey and stress free event to plan!
Customized Packages for All Budgets
Whether you're planning a large corporate gathering or an intimate family get-together, Philly Casino Parties offers packages that can be tailored to suit your needs and budget. You can choose the number of tables and types of games to create the perfect entertainment package.
No Risk, All Fun
At Philly Casino Parties, there's no real money involved, which means no one goes home with empty pockets. Guests receive a set amount of chips, and the aim is to accumulate as much as possible during the evening. This eliminates the stress of losing money while allowing everyone to enjoy the thrill of casino gambling. For added fun, chips can be traded in for raffle tickets and a chance to win a prize. (non-cash prizes where allowed by law)
Memorable Photo Opportunities
Capture the joy and excitement of your holiday party with memorable photo opportunities. Guests dressed in their finest casino attire can take pictures with our Philly Casino Photo Kiosk, preserving the night's fun moments for years to come.
This holiday season, make your party stand out with Philly Casino Parties. Offering a wide range of games, professional dealers, and customizable packages, it's the ultimate form of interactive entertainment that's sure to leave a lasting impression on your guests. The combination of social interaction, excitement, and a touch of casino glamour makes it the best choice for this year's holiday celebration. Don't miss out on the chance to create an unforgettable evening of fun, laughter, and entertainment – get a free quote online & book your Philly Casino Party today!