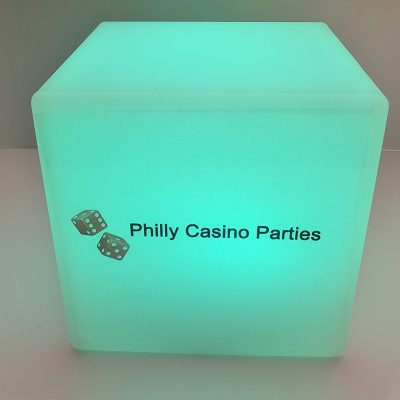 Add Your Logo To Our Lite Cubes To Custom Brand Your Casino Games
Perfect for corporate branding, table sponsorship for fundraisers, or recognizing individuals
These 4″ x 4″ Lite Cubes can easily fit on our Blackjack, Poker, Big 6 and Roulette Tables to display your custom logo or text to guests attending your event. The lite cubes offer up to 16 different color backgrounds and 5 levels of brightness. They are completely wireless and can last up to 8 hours on a single charge. Each cube is customizable on 4 sides with your logo or text which is applied as a transparent decal.
Rental of each cube with custom logo or text on 4 sides runs $100 pre-paid with order.
Please allow at least 30 days in advance of your event date for customization. Sorry, no rush orders.
Place Your Custom Lite Cube Rental Order 30 Days or More In Advance Of Your Event Date
Once we receive your order and artwork, we will review it before processing. If the artwork is approved, you will receive an invoice for payment  before we finalize your order for printing. We cannot custom print any logos or text until we have payment in full.
If there are any issues, including availability of the cubes for your event, we will contact you by email or phone. 
All orders are done in house and transported and set up by us at your event.
Logos / Text must not be larger than  3.5″ x 3.5″ square (1050px x 1050px x 300dpi).
All white ink surfaces will appear transparent.
Art work is best as a 300dpi image on transparent background as a PNG file. If you require assistance with artwork, please let us know.
There is a one time art charge of $25 per logo ONLY if you require us to resize your logo or text. If your art work is to spec, there is no charge.
If you are using multiple logos for your event (eg./one for each sponsor), you will need to submit the form below for each unique logo.