Philly Casino Parties & Live Beacon Technology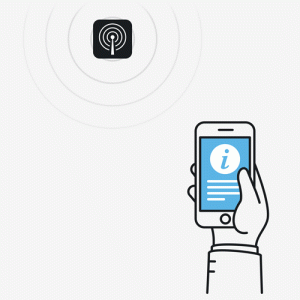 Now Available for Corporate Events & Fundraisers
Live Beacon is a small, battery-powered, cloud-controlled device that transmits web content to smartphones and tablets up to 100 feet away.  We can now offer a way to communicate with your guests as they arrive at the casino – how to get started, obtain chips, learn to play and the procedure for cashing out at the end of the evening.
Information is broadcast to them on their cell phone via the Live Beacon. This information can easily be customized for your event.
See two examples –  https://phillycasinobeacon.com/  &  https://phillycasinobeacon.com/index.php/beacon2/
A prominent sign on a sleek metallic silver stand is placed at the entraceway to your casino event (see below) with clear instructions for getting started. The stand  has a battery powered beacon attached, so as long as guests are within 100 feet, they will receive the information.
If interested in having this for your corporate event or fundraiser, let us know when you book your event!